Affiliate Software Platform Configuration Options
Our affiliate management platforms can be deployed in multiple configuration options for your exact business requirements.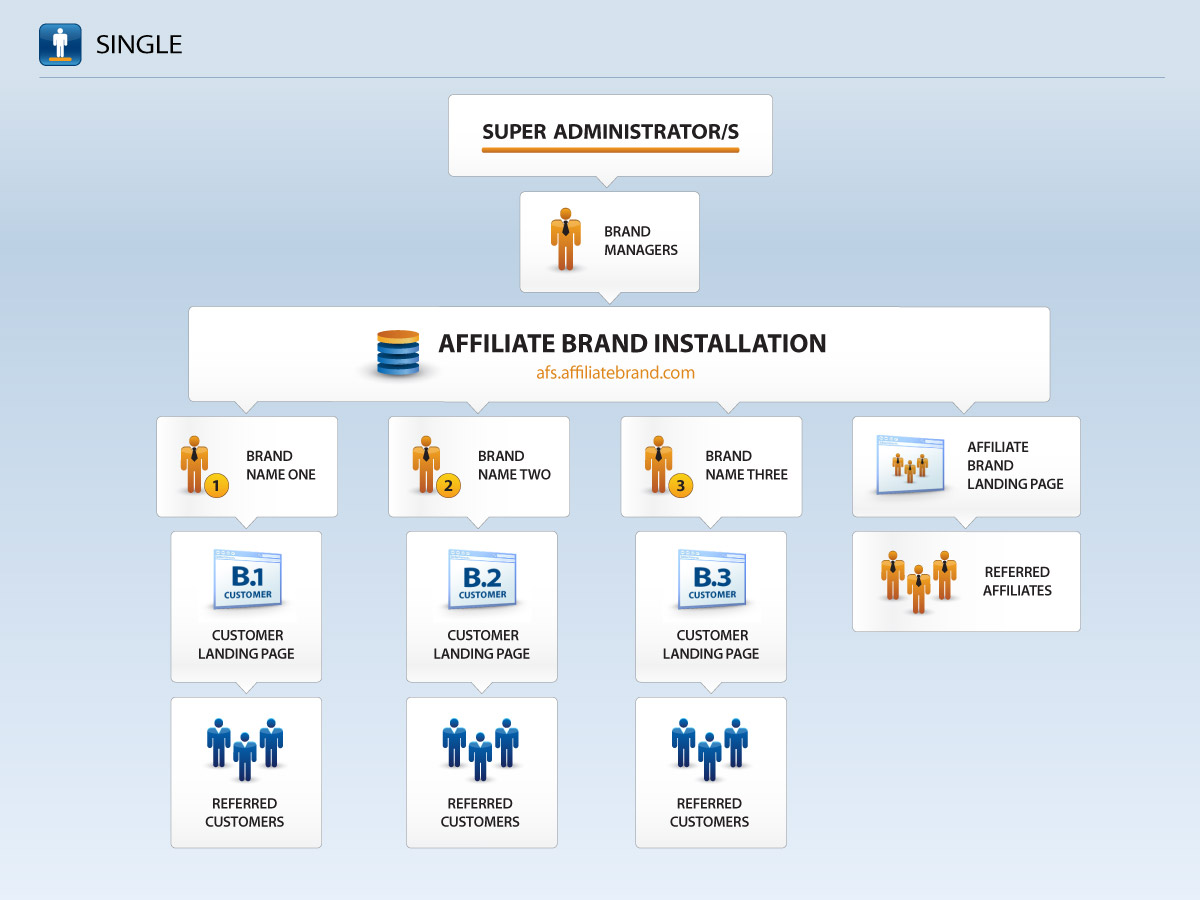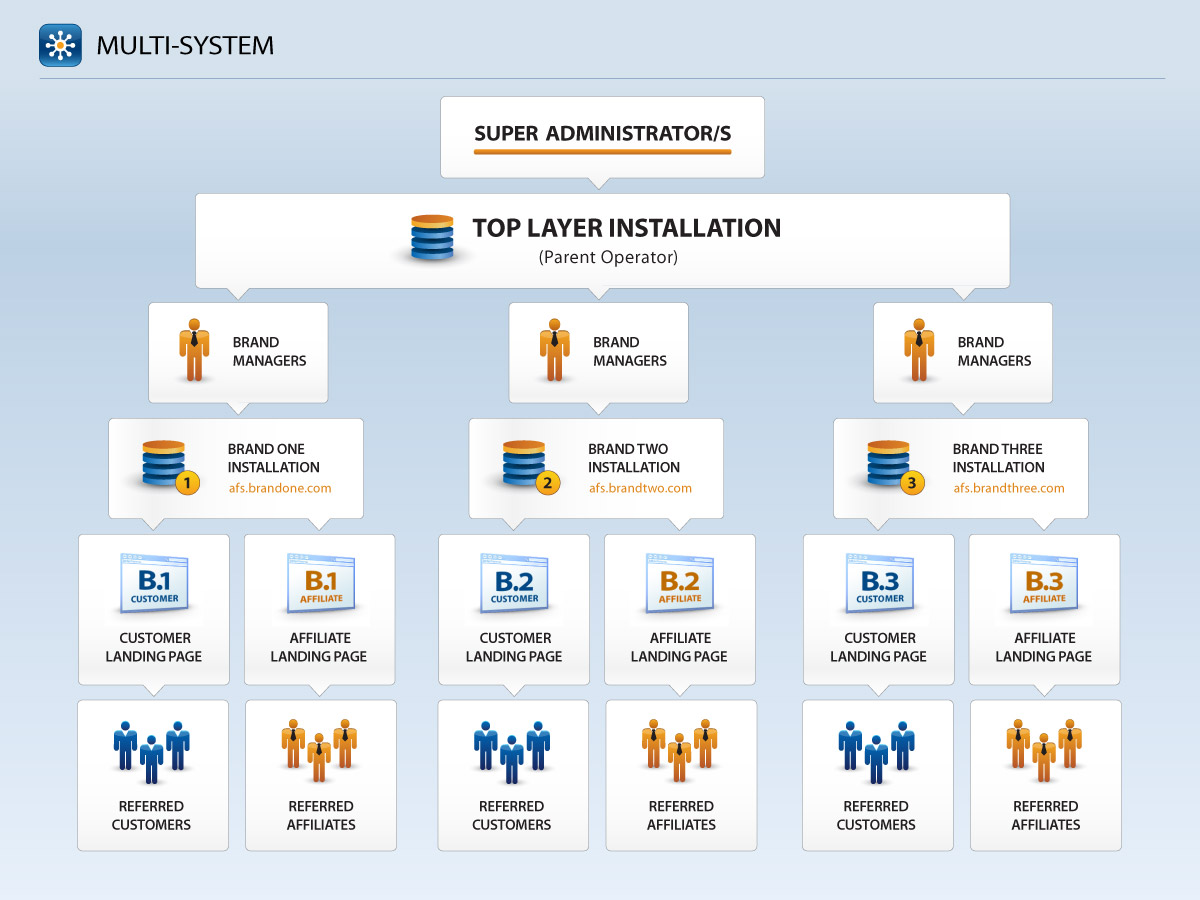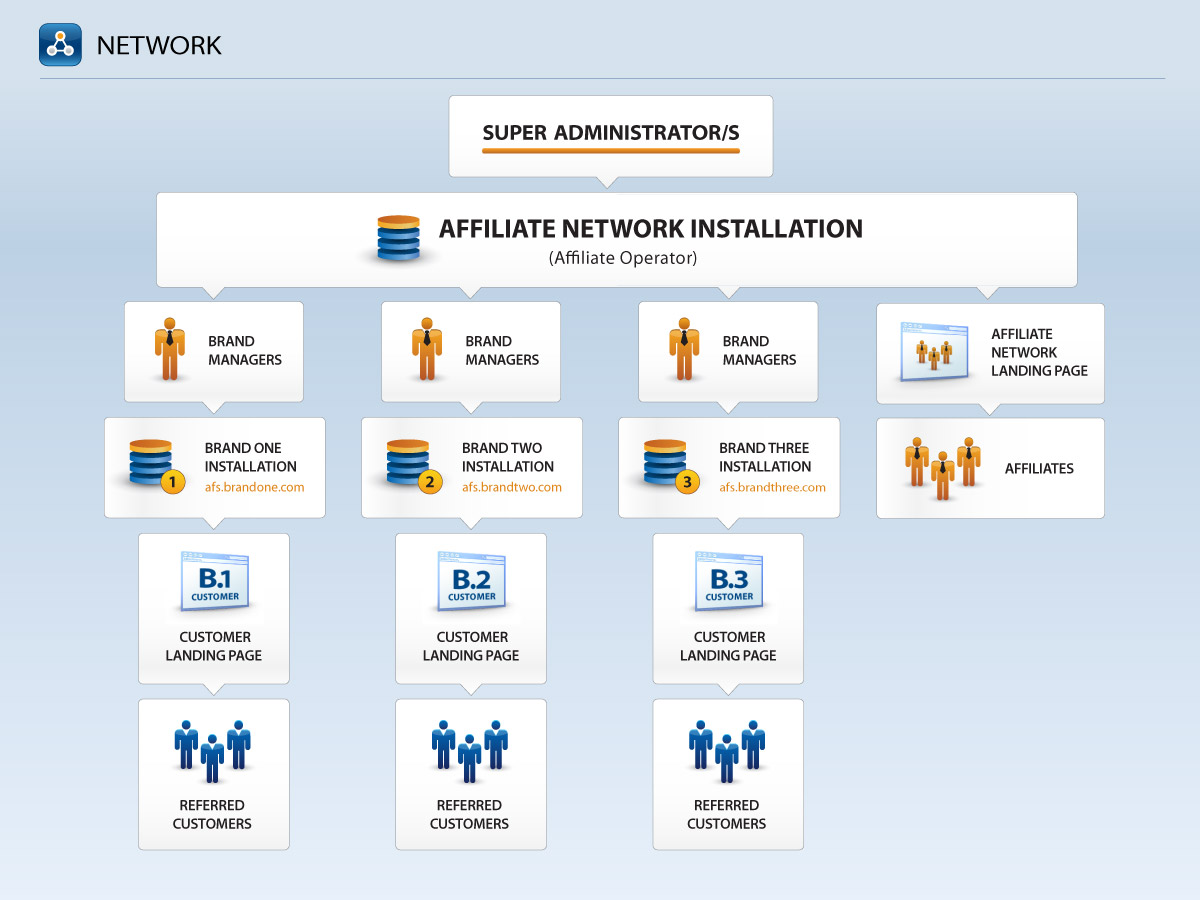 Single Layer
The latest cutting-edge affiliate program management software that enables you to build, manage and grow your affiliate marketing business. A scalable full-service solution which includes software upgrades, hosting, content delivery, data management and professional support services.
As standard our platforms are delivered with multi-currency capabilities and with English, Czech, German, Spanish, French, Croatian, Hungarian, Italian, Japanese, Polish, Russian, Arabic, Chinese and Simplified Chinese, Suomi, Indonesian, Korean, Malay, Thai and Vietnamese languages. All clients have the ability to add any additional languages of your choice.
Multi-Layer
Multi-Layer solutions enable you to deliver a custom branded affiliate program to your business partners and clients whilst maintaining full management and control through role-based access.
Each brand can be rapidly deployed as a fully independent affiliate programs from one management platform and is flexible and fully scalable with the ability for you to integrate unlimited independent or grouped brands.
The Super Administrator can assign multiple brand administrators that can then in-turn create multiple role-based access user accounts which provides your business partners with all the necessary tools to manage a fully featured affiliate program. Unlimited single or grouped brands, administrators and users can be deployed from the Multi-Layer solution.
Marketing Network
The Marketing Network platform is an extremely powerful affiliate marketing solution that enables you to integrate unlimited brands across multiple industries through API and/or Pixel tracking technology and provide your affiliate marketing partners with a choice of advertising partners. The Marketing Network platform is available with a number of different configuration options depending on your required business and management model.
The network platforms are designed with a wide variety of network specific administration features which include an additional layer if required, that allows your advertising brands access to the back office to either accept or reject affiliate partners, independent brand invoicing and payment solutions and a variety of support configuration management options.
A true multi point access layer provides the capability to plug in multiple network branded operators with the ability to connect brands to independent networks whilst still giving access to every brand to all affiliates across the entire network. Network managers can be assigned to an independent network brand and can track the performance of all advertising brands that are assigned to them, giving your network an extremely powerful, scalable and reliable solution that can be deployed across multiple territories and operators.