Platform Hosting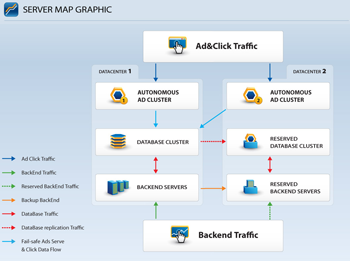 We take care of all your website and database hosting requirements. All platforms are hosted at our high-speed internet data centres where they are constantly maintained, upgraded and administered by our experienced and professional system administrators and technical staff.
Secondary back-up and redundancy solutions are provided by our second mirrored data centre which is connected directly to the first by high speed fibre optic cable using multiple direct connections to the internet backbone.

In addition to our two main European based datacentres, we have also deployed multiple connected and mirrored servers at datacentres around the world in order to provide our clients with a powerful content delivery network solution complete with load balancing and replication technology to maximise ad-delivery and click processing speeds.

In the event of an outage or hardware failure systems are re-pointed to operate from the secondary datacentre to minimise downtime and provide a reliable redundancy solution.

All data is securely managed with access to data rooms protected by both RFID and numeric code. Visitors access is regulated by identity check and pass release, only escorted by the internal staff. Intrusion detection system based upon combined usage of presence detectors, volumetric sensors, contact sensors on fixtures and vibration detectors, backed up by external and internal video surveillance system.

Our data room is controlled by a temperature and humidity monitoring system and powered by 2 twin power centres connected by Static Transfer Switch. Dual redundant Power Distribution Units for each rack cabinet with separate buildings for power centres and batteries/UPS. Auto locking of fuel supply line to power generators in case of fire detection with Auto fire-off nitrogen system.

We maintain a 24/7 Human presence in the Network Operation Centre with Instant failover to the NOC of the secondary datacentre in case of problems on the local NOC. An automatic Fire and smoke detection system positioned both under the floating floor and above the ceiling.

Our datacentres are officially certified ISO 9001, ISO 27001 and Tier IV.